A stellar team in Houston gets a new name and visual system to launch their new company with a splash.
Naming
Messaging
Brand Story
Brand Identity
Print Collateral
The Michael Silva team came to us with big ambitions. They were looking to launch their own thing and wanted a new name, brand story and brand identity to carry their big vision forward. We dug right in to create a strategy that would eventually lead to the Happen Houston name and brand it would house.
Creating momentum
Our brand strategy and manifesto guided the design team to create an identity that exhibited the studied, steady hand of Happen Houston. Like an artisan, rooted in knowledge but trusting in instinct, Happen Houston was always prepared to carry not just the momentum of transactions but life itself in ways that appeared effortless. We elevated this into physical form for their brand identity through the use of brushstrokes, copper materials, and unique paper selections.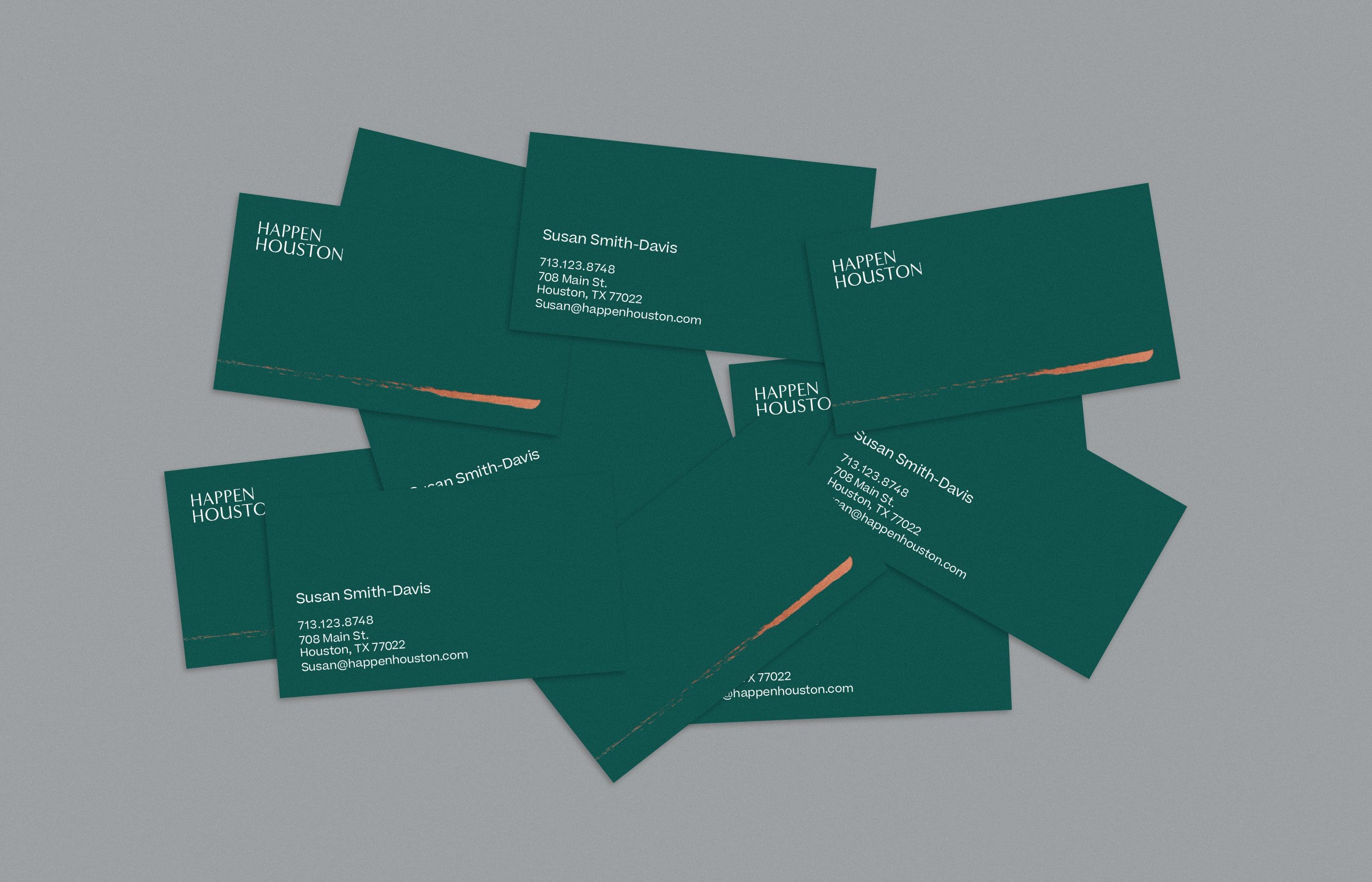 A sense of rhythm
In continuing the visual language of momentum, we created property flyers and notecards using a rhythmic grid and framing system that captured the forward motion Happen Houston brought to their process. 
Rethinking the yard sign
With so much thought behind simplifying the brand to basic elements and approaching every detail like a craftsman, a custom fabricated sign was the only option. We gave it unique framing and copper ring accents to echo the brand's effortless nature.
Testimonial
"1000watt is a branding company. 1000watt is not a marketing company. Put the time in to understand the difference before reaching out to them. Branding goes deep. They spend the necessary time with you to go beyond who you are as an individual or group to really understand what the brand should be. To have the best possible outcome and truly succeed in creating a special brand you should just let go and put your trust in them. This will allow them to do their very best work. Play by their rules. Everyone we worked with at 1000watt is so incredibly authentic. They changed our course for the better in so many ways at Happen Houston and Harvard Homes. We are under a permanent debt of gratitude and look forward to providing them with another project in the near future."