A Colorado brokerage leans into its calling
Brand campaign design
Photography direction
Content strategy
Copywriting
Brand campaign guidelines
Brand foundation
Communications strategy & copy
Web design
We knew the moment we sat down with the team at Slifer Smith & Frampton in their Vail office that there was a deeper story to unveil about this company. Their origin story was deeply rooted in Vail's ski community, a place the three founders had dedicated their lives and careers to, but there was an even larger story brewing. They had expanded far beyond Vail to markets encompassing Aspen all the way to Boulder, and in the process had built a collection of people who each embodied a love for and connection to a place that was impossible to ignore.
Starting at the foundation
This client was dedicated to rethinking and rearticulating their brand's point of view, vision and purpose in the world. We started with a deep dive into their brand foundation, or the building blocks that make up a brand's story, DNA, and character. We conducted an onsite workshop with key stakeholders to crack into the core of what makes Slifer Smith & Frampton tick. What we found was a principled company that liked to have fun while doing great work in their local communities. This company had built a culture around a dedication to Colorado at the individual level and as a collective.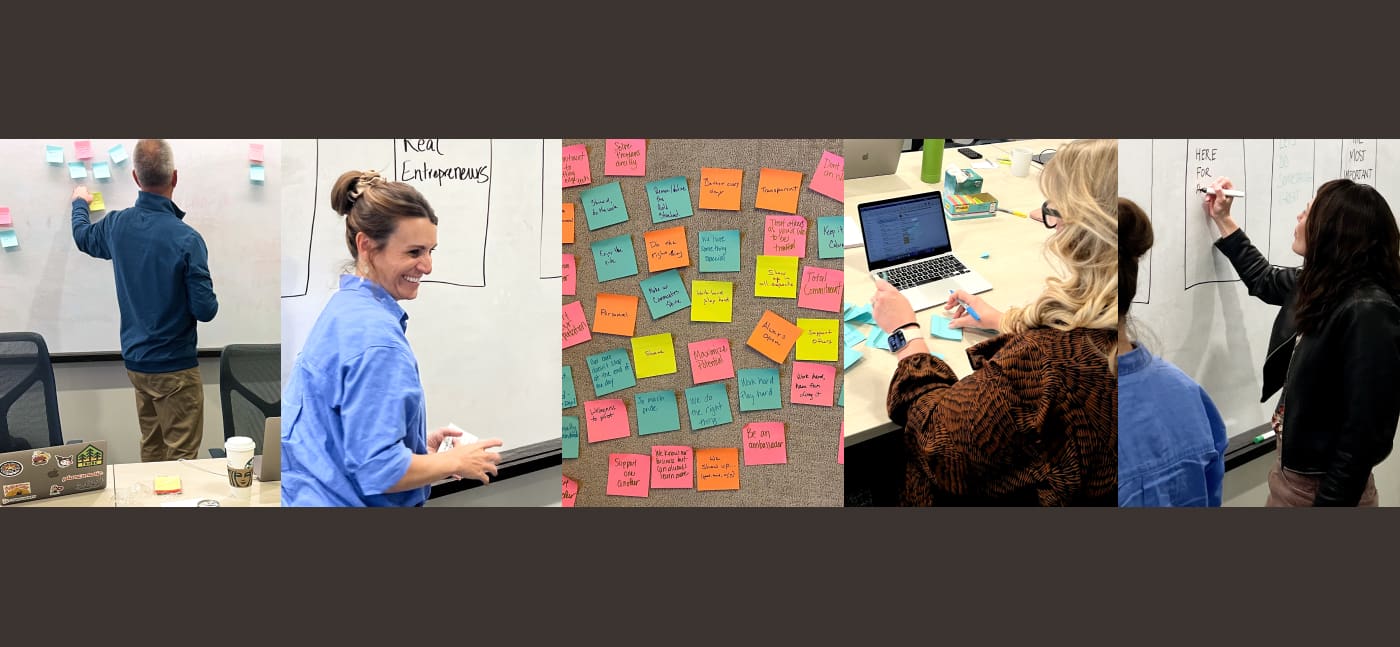 Moments captured from our Discovery phase: a collaborative brand workshop held at the Slifer Smith & Frampton office.
This work led to the brand mantra, Colorado Calling, a simple articulation of the emotional connection to people, place and purpose that sit at the heart of the Slifer Smith & Frampton brand.
In collaboration with the stakeholder team, we crafted six brand principles that serve as the non-negotiables that guide everything they do.
Colorado's real estate company
A big part of our charge was to help Slifer Smith & Frampton shed the identity of being just a "Vail company" as their footprint had grown far beyond. What we learned was that regardless of the market they were in, the company remained invested and committed to Colorado as its home. The strategy became one of owning their place as "Colorado's real estate company" and letting the world know about it.
A big part of our strategy included emboldening the company's identity as committed to Colorado without erasing its important history in the Vail market. We did this visually and with messaging that reinforced its focus on local connections and investments across the entire region.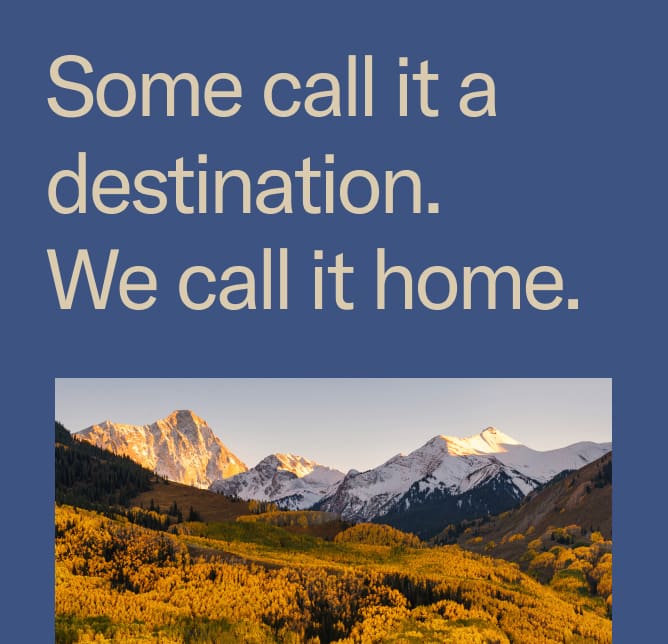 An emphasis on people
The people at Slifer Smith & Frampton embody the brand's values and Colorado Calling while being stewards of it. We took a thoughtful, editorial approach to profiling the people of the company using custom photography and written stories that connect them to the brand campaign and the theme of Colorado Calling.
Versatility and depth
Our strategy with content was to create images, profiles and copy that could work across digital, print, and in-office expressions.
Inspired by the three bars in their logo, we developed a visual system that would set the stage for every narrative to play out — ensuring consistency and reinforcing their brand in fresh new ways.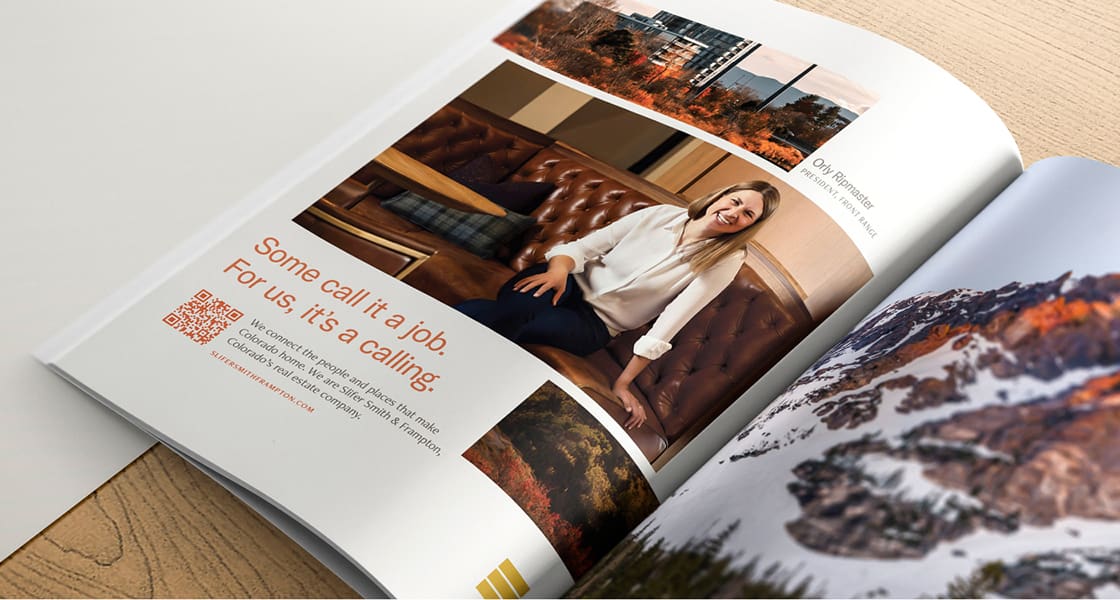 The framing convention was designed to be implemented in countless ways. Changing the orientation and sizing allows the system to perform in every medium and channel.
In pursuit of being seen as a Colorado company and not just a Vail company, we expanded the color palette to reflect more regional influence. Natural and regal, the colors provide a range of tones that elevate the campaign.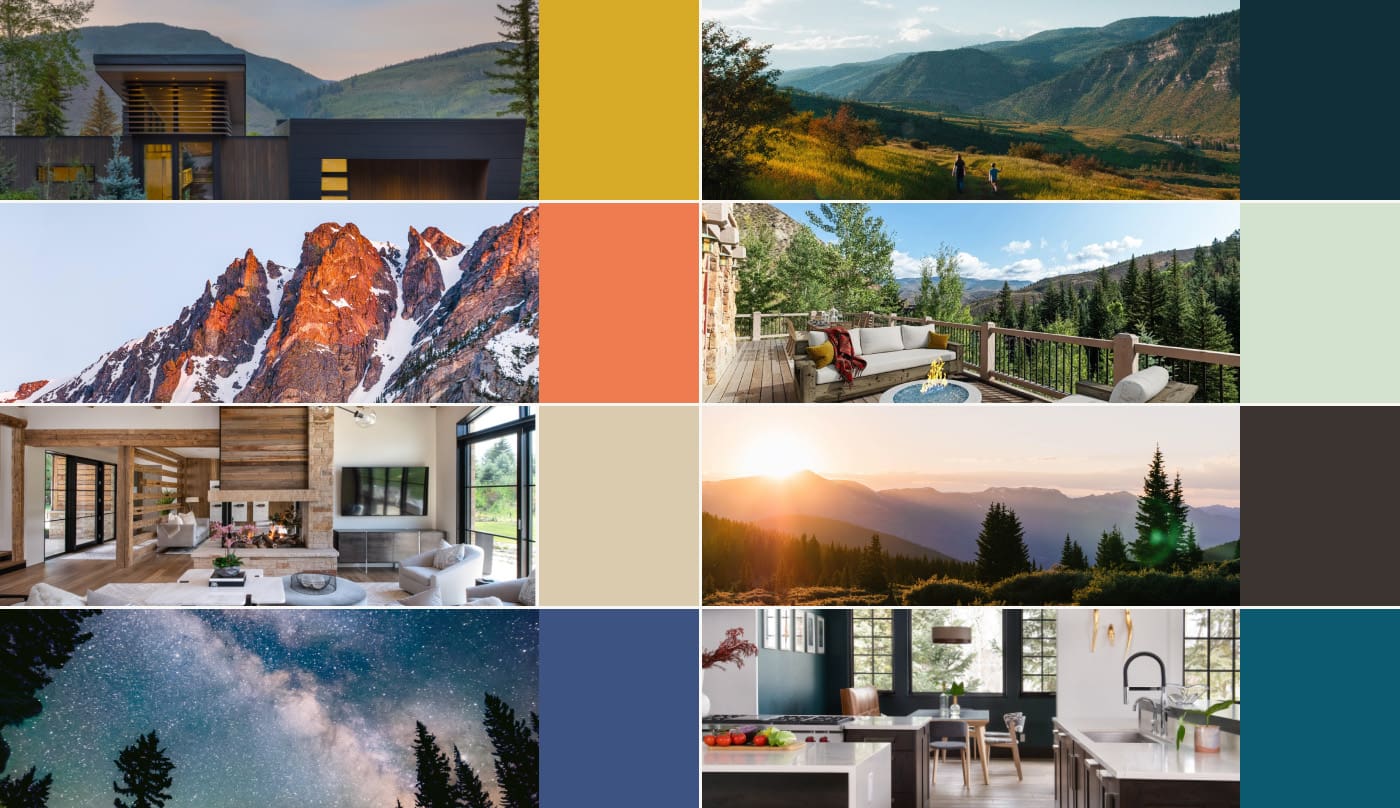 Leveraging the name
Another important consideration of the campaign was how we would leverage the company name. A bit of a mouthful, Slifer Smith & Frampton felt like it demanded to have a bit of fun. With this in mind, we applied a scattered, yet gridded, approach to the letterforms to achieve a result of decoration versus the decorum the logo demands.
To further celebrate Colorado, we expanded on the dynamic type system to create typographic maps that boldly showcase the new color palette and demonstrate Slifer Smith and Frampton's reach and influence.

One website to unite and express the entire campaign

We developed content strategy, copy and visual design for a website to tell the larger Slifer Smith & Frampton brand story and campaign. The site's purpose is to tell the company's story, feature its people prominently, and reveal more of its core purpose and strong connection to Colorado to both brokers and consumers in the region.
Brand campaign guidelines
In addition to versatility, we knew the campaign would need to serve the brand ongoing so we went deep on campaign guidelines to serve as a guide and map for future deliverables.
Communication playbook
In addition to brand storytelling, we gave Slifer Smith & Frampton a practical communications guide around key aspects to the company, its footprint, its founders, sister company, Forbes Properties membership, and origin story that executives and market presidents could use to answer common questions and guide messaging.
Testimonial
I have followed and admired the 1000watt team's work for many years, and even before we were a client I gleaned so much from their insights. The opportunity to work with 1000watt came to be at a time when our company was growing, the competitive landscape was changing, but we knew we had a story at our core that needed sharing. We spoke with other 1000watt clients, brokerages similar to ours that we looked up to, and all said something along the lines of "trusting the process". Having now been through this process I understand what they meant, and what 1000watt's mantra "turn on" can do for a company. We did the work together, our team was lifted up and supported, and we did something bold, different and fun that I am very proud of! We didn't expect to learn so much about ourselves, but now we have a concrete way to communicate who we are and where we are going.