Georgia's top real estate law firm stands out from the fine print.
Brand positioning

Messaging

Content strategy

Logo and identity system 

Collateral

Web design and development
Weissman PC has been in the game for 30 years. In fact, founder Seth Weissman literally wrote the book on real estate law in Georgia. They know their way around legalese like none other — bringing clarity to complex transactions. But they bring something else to their work — a human touch.
Weissman understands that a bad closing experience can derail months of hard work, leaving people frustrated. So they do everything in their power to make closings a celebration. They thoroughly check every detail. And they put everyone at ease with their warmth and wit (a welcome characteristic in a world of fine print). This essence was already at their core. But they needed our help to surface it. Shape it. And ship it across a plethora of touchpoints. Challenge accepted.
The most important moment in real estate is that final moment at the closing table — when everything comes together.
Every brand has a story to tell and an audience to reach. But to really touch their hearts, you have to do some soul searching — reflecting inward and understanding your place in their world. Our discovery process helped Weissman uncover key insights about their brand's essence, their customers' needs, and the right emotions to convey.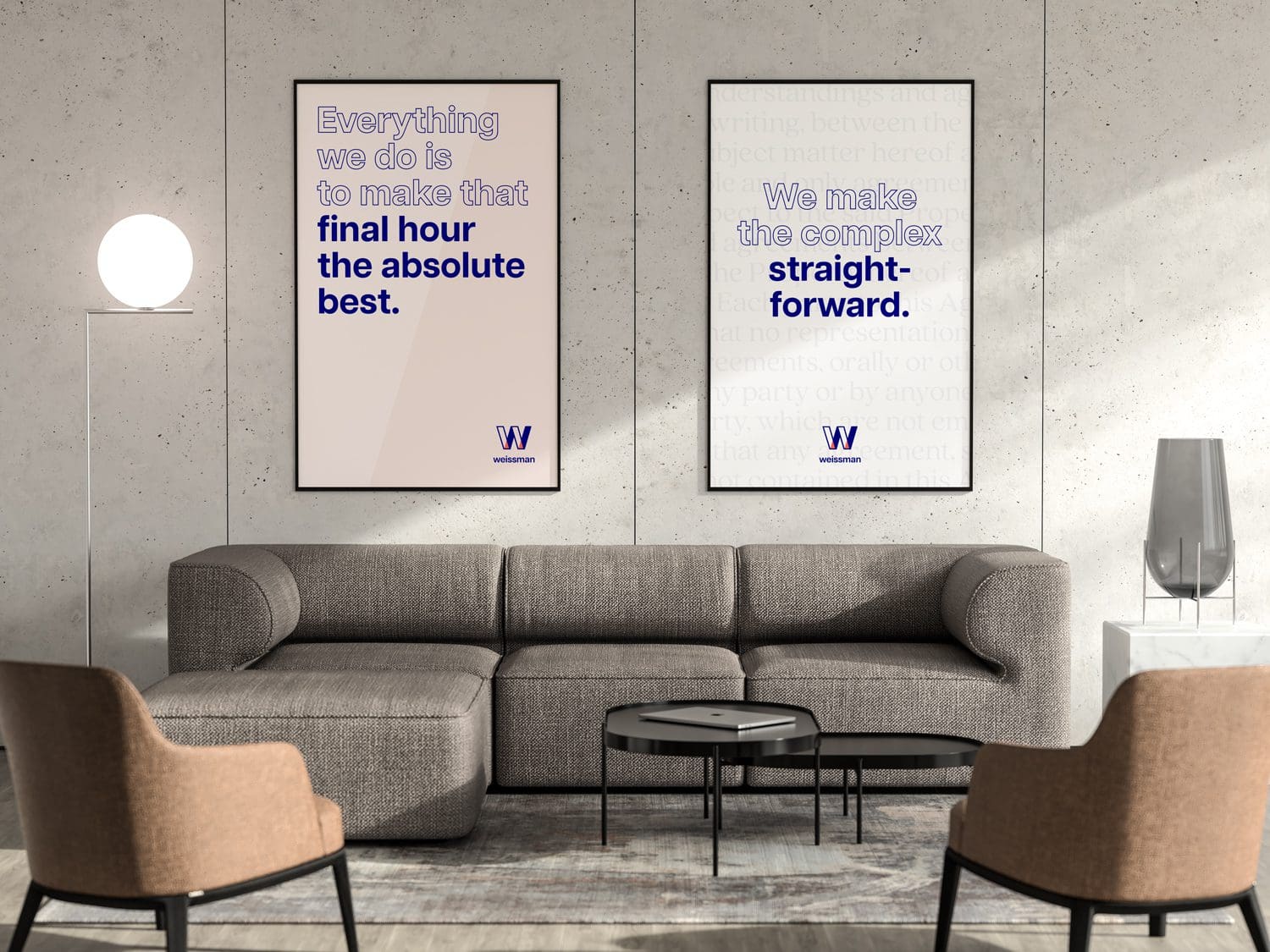 Weissman may live in the legal world, but that doesn't mean their language has to be dry and stuffy. We kept the copy charming and clever, just like them — riffing on the Latin legalese that comes with their territory. And showing how they translate it for their clients every day.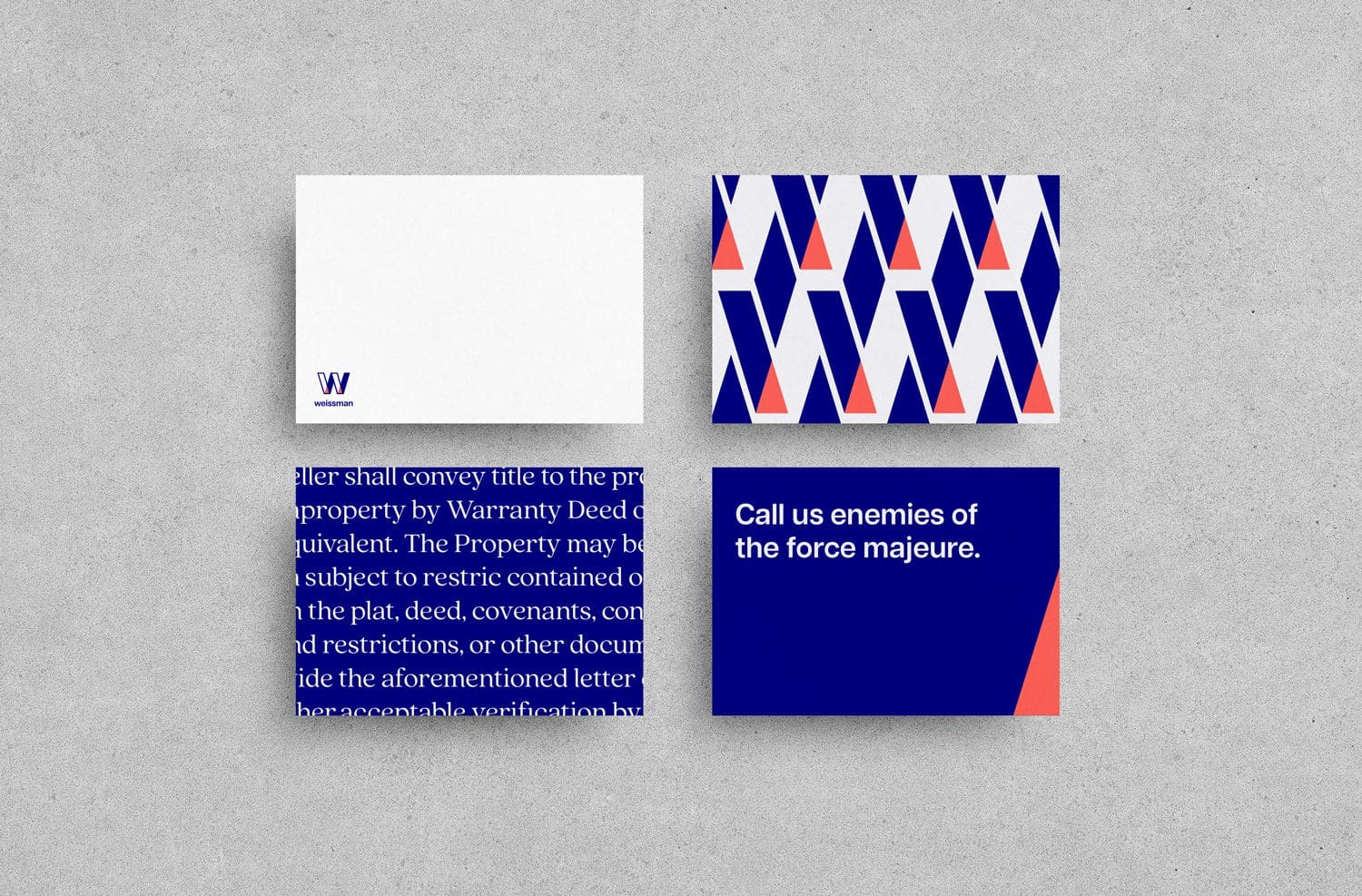 Weissman's personality carries right into the logo and identity system. The design balances professionalism and approachability, with a monogrammed "W" representing open doors and new opportunities. The letterforms are clean and friendly, and the color pops give it a fresh, vibrant energy. We also built an expressive pattern system for extra visual interest (and some unexpected applications).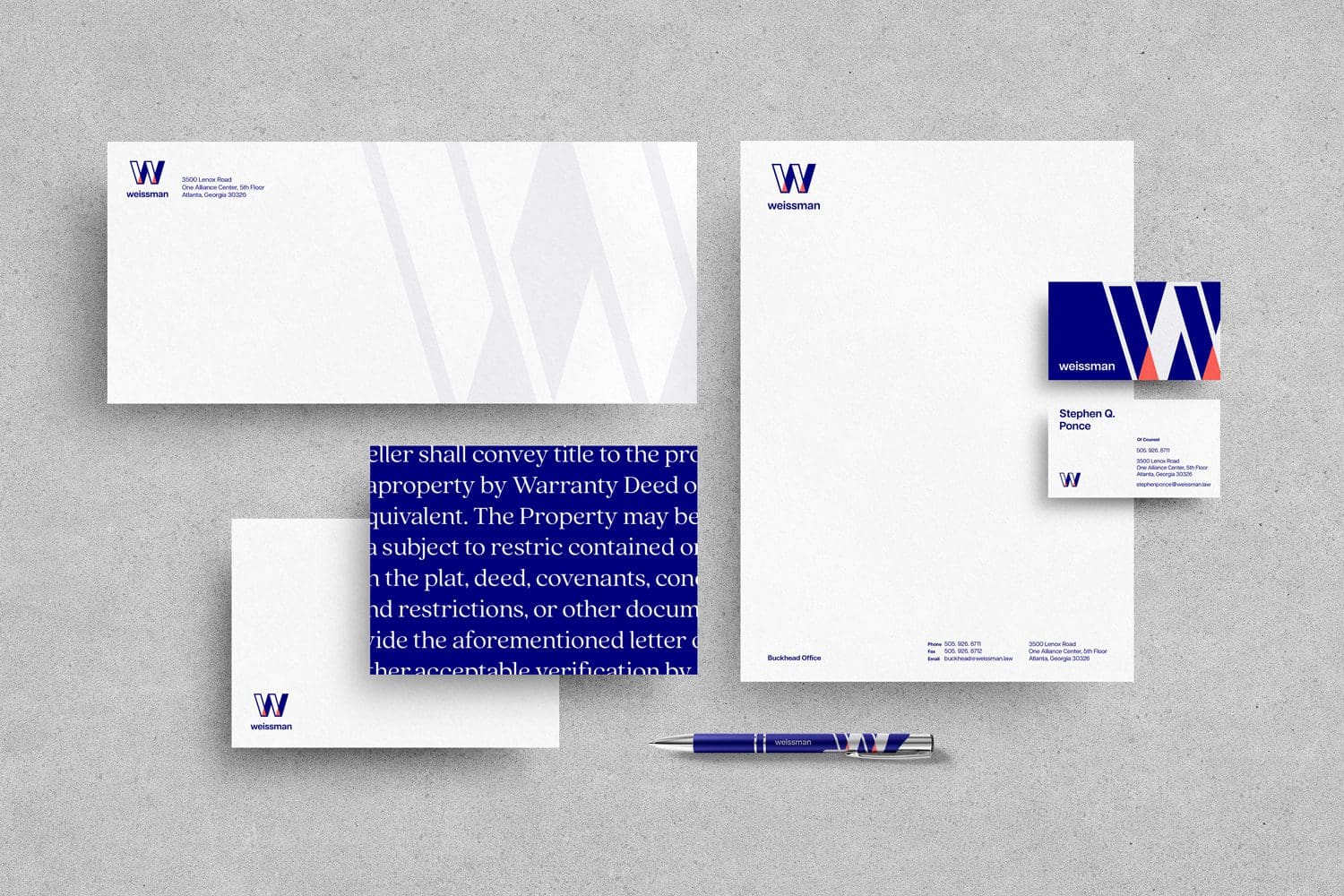 So much about the Weissman identity system was conceived in an effort to communicate edge, dynamism and energy. When it came time to bridge the new identity and a completely new website environment, we knew we wanted the people who comprise the practice to add the warmth and character the brand is known for.
We started with a clear perspective on how imagery needed to be captured: full body portraiture that would allow for a variety of posturing, posing and personality to shine through. We worked with an incredibly talented portrait photographer, Stephanie Eley, who we art directed from a distance. The result? An incredibly comprehensive gallery of faces and profiles within the Weissman orbit that would pair with the website's extensive features.
With the brand tone set, we embarked on building a better digital presence through a robust content strategy exercise. This involved creating clear pathways to information, serving up the right content for the right users (in the right places), improving the menu and navigation systems for mobile and desktop, and making everything shorter and more scannable.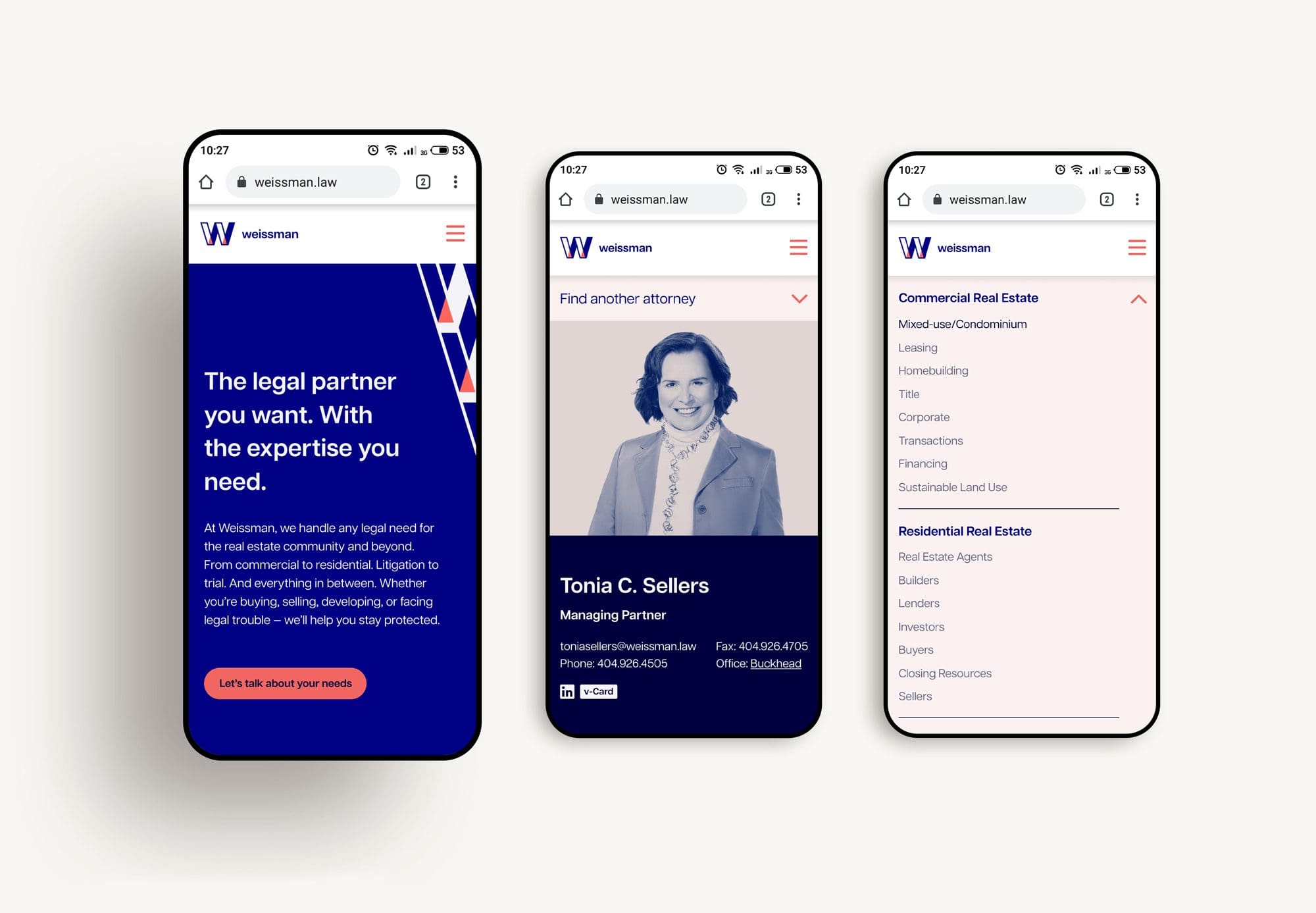 Testimonial
"The brilliant 1000watt team guided us through a rebranding that took into consideration our history, our voice, our personality, and our goals. They eloquently moved us forward visually and through messaging to embody the firm we are today in a fresh and dynamic way. We look forward to the opportunity to partner with them many times again in the future."