An independent, family-run brokerage reconnects with its roots — and branches out in bold new directions.
Brand positioning
Messaging
Logo and identity system design
Collateral design
Content strategy
Web design
Brand launch video
Jack Conway is a Massachusetts institution. They're the largest independently-owned real estate company in their region, with a sales record that ranks among the top in the nation. They're also a family business; a second-generation brokerage built on a reputation of family values as well as business savvy.

They know where their company is going. And what their future should look like. So they partnered with 1000watt to develop a fresh brand identity that reflects their forward-thinking vision.

Jack Conway, the brand — like Jack Conway, the founder — values people and connection above all else. Honoring that legacy remains just as vital to their leadership today. So it was important to retain the humanity that made them so legendary — while modernizing their identity for a new era of Conway leadership.

Bold. Sharp. And full of character.
We began by simplifying their company name itself — shortening it from 'Jack Conway, Realtor®' to simply, 'Jack Conway'. Jack Conway as a name has strength, character, and cache. It honors the company's heritage and tells a rich story in a shorter space. It also keeps the word mark clean and compact when applied across all the various business extensions and logo lockups that are needed.
Out with the menagerie of random, sub-brand logos. In with a unified system — applied consistently across all their brand impressions. Their new logo is clean, strong, and bold, designed with modern sensibilities and touches of depth and character. The new word mark speaks to all of their markets, enhancing their brand name for maximum recognition — from the city to the coastline.
Color that tells a story.
We developed a new color palette with a narrative all its own. The palette is inspired by the architecture and the landscape of the region, from urban slate to coastal sandstone and blue. These hues evoke the local heritage while offering a fresh, modern interpretation.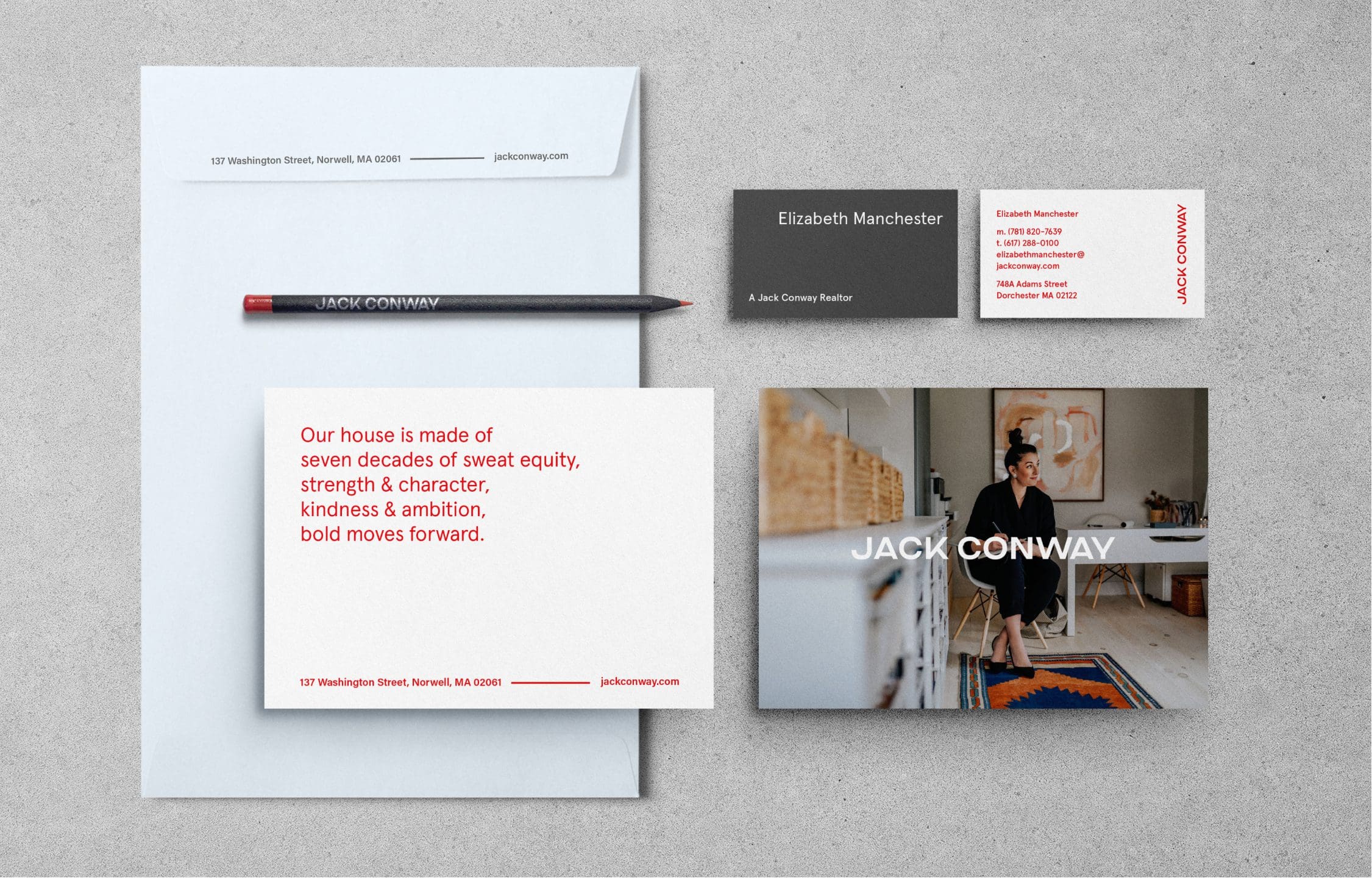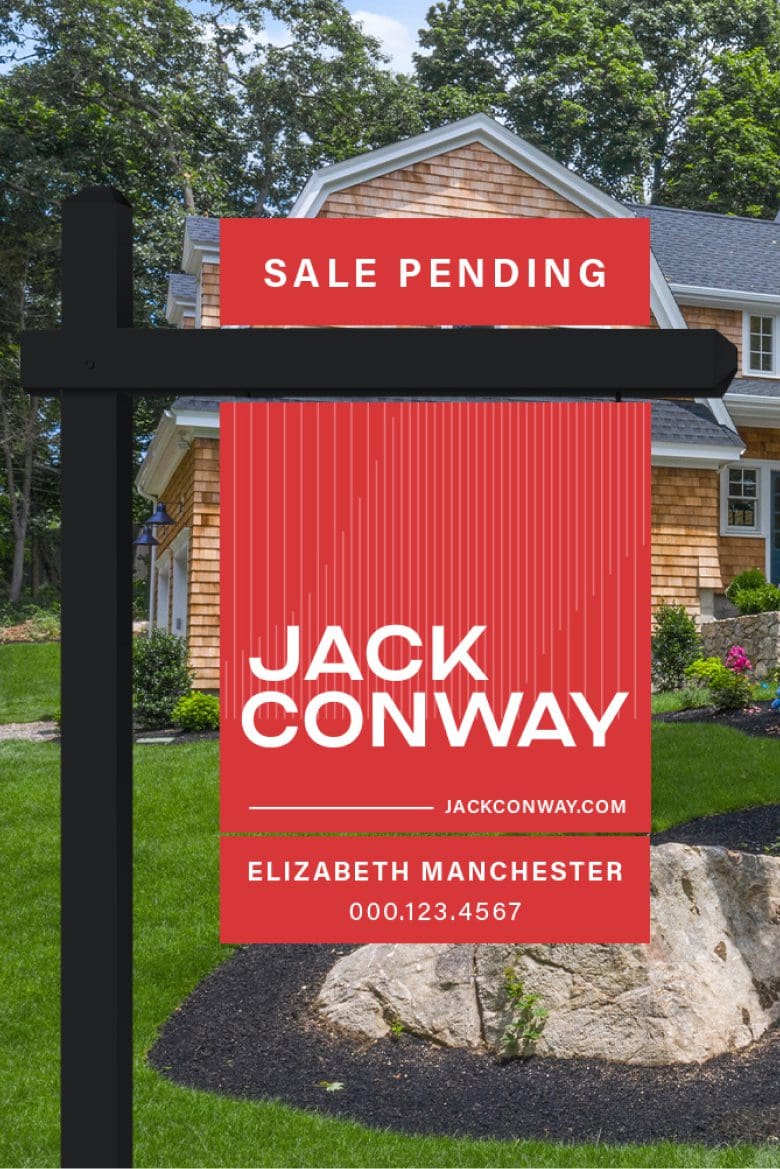 The power of red.
A key part of Jack Conway's color palette is the iconic use of red. It's bold and powerful, like the name itself. This red has come to be synonymous with the brand. So we elevated and accentuated it. By owning the red, we pay respect to where the brand started. While advancing it for the future.
Versatile motifs lend added depth.
To enhance the brand identity even further, we designed a series of motifs that honor the diversity of Jack Conway's region. They're inspired by the straight lines and geometry of Boston's cityscapes, as well as the organic shapes of the South Shore's coastal waves and country landscapes. These shapes have dynamic rhythm and movement, similar to music. So we subtly nodded to those qualities in the naming convention of the motif system. They enliven our backgrounds and open the possibilities for a variety of layout applications.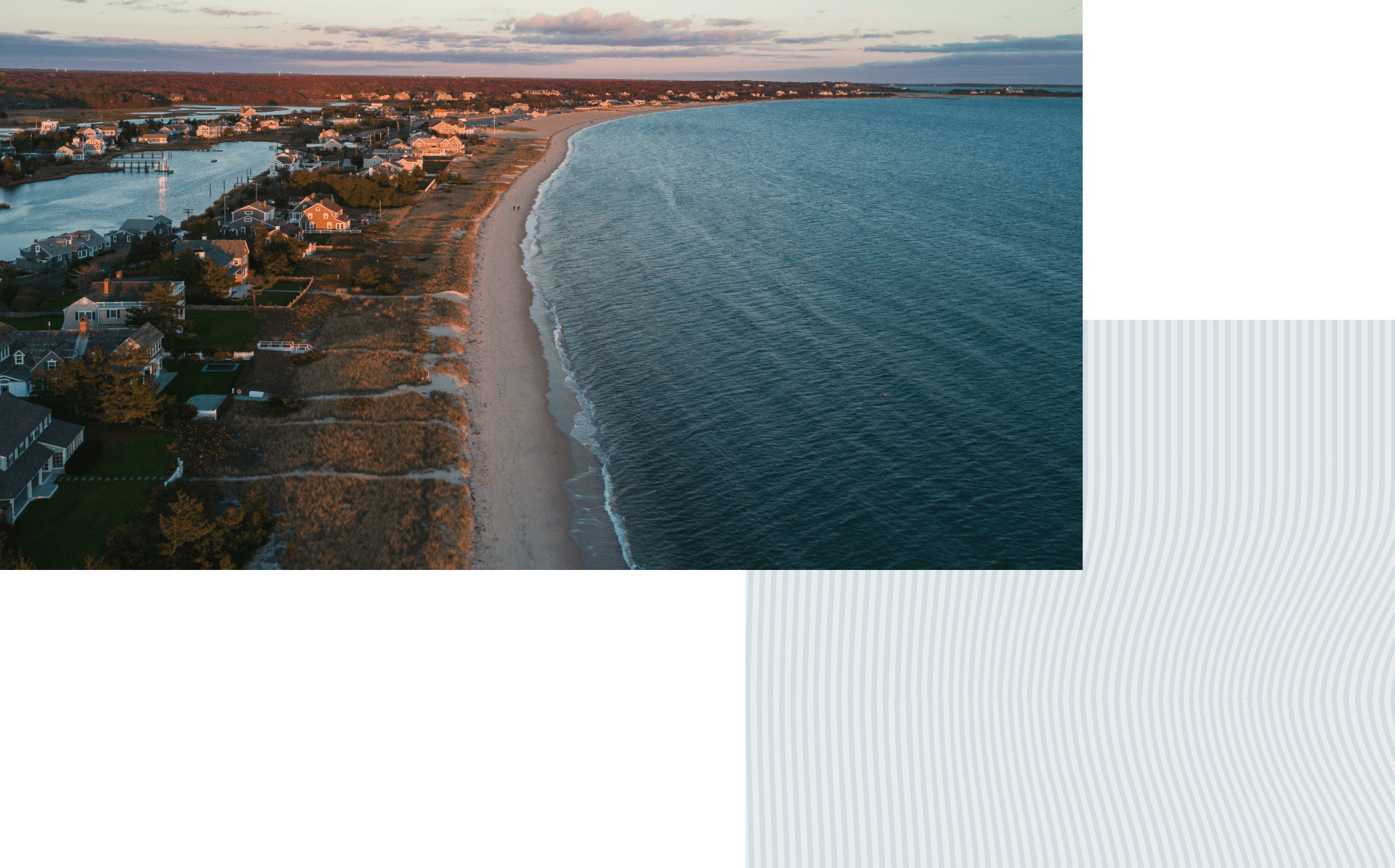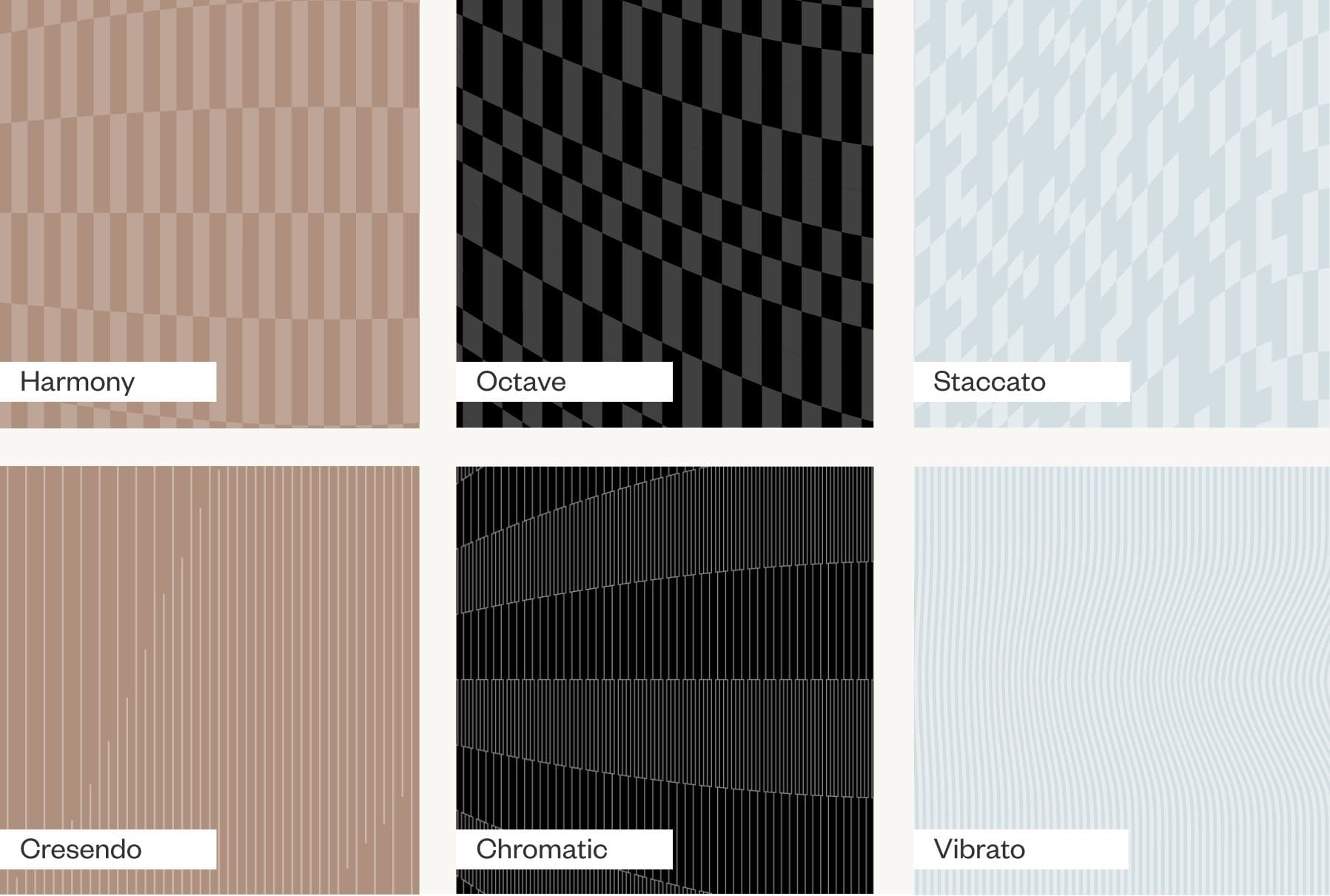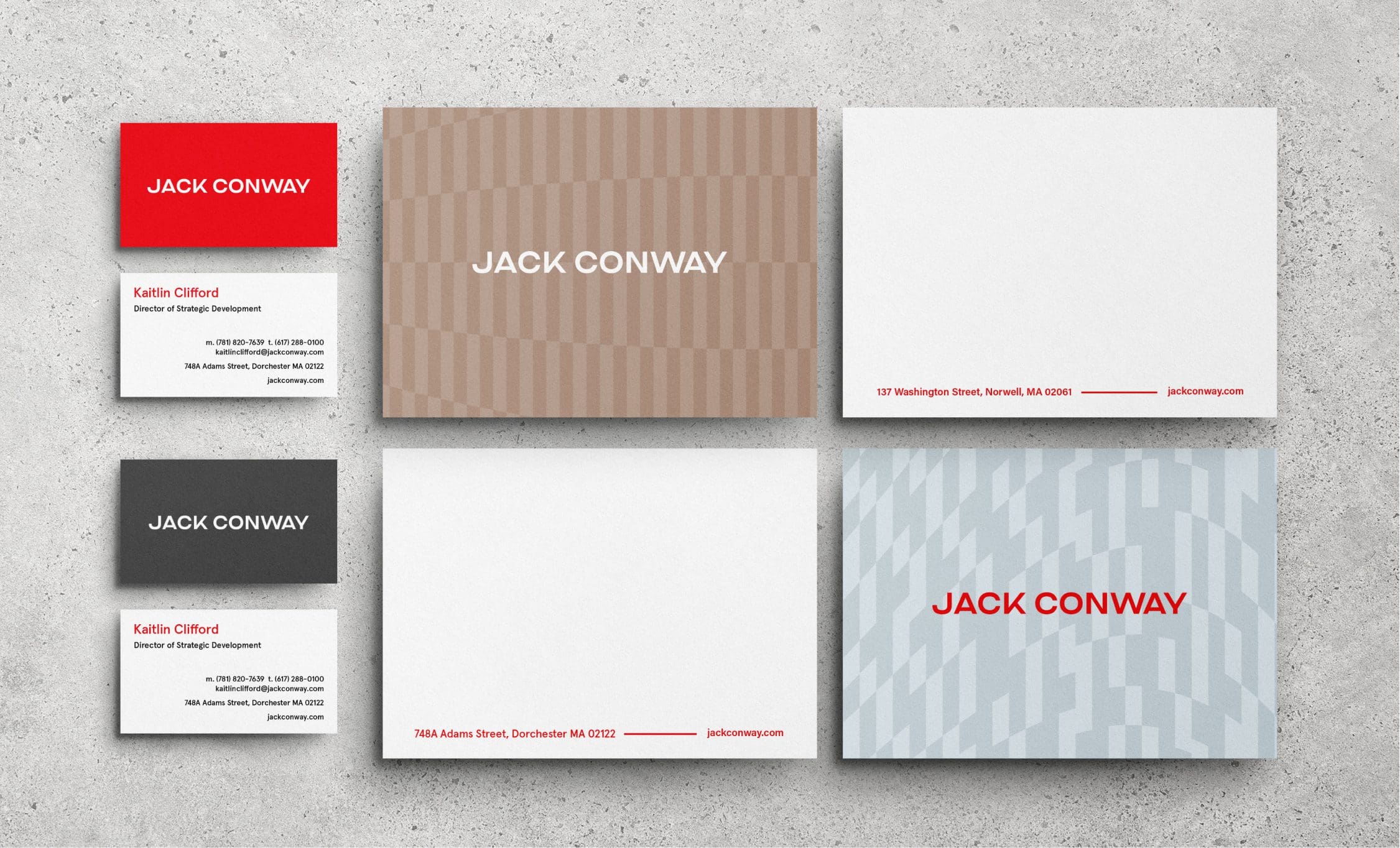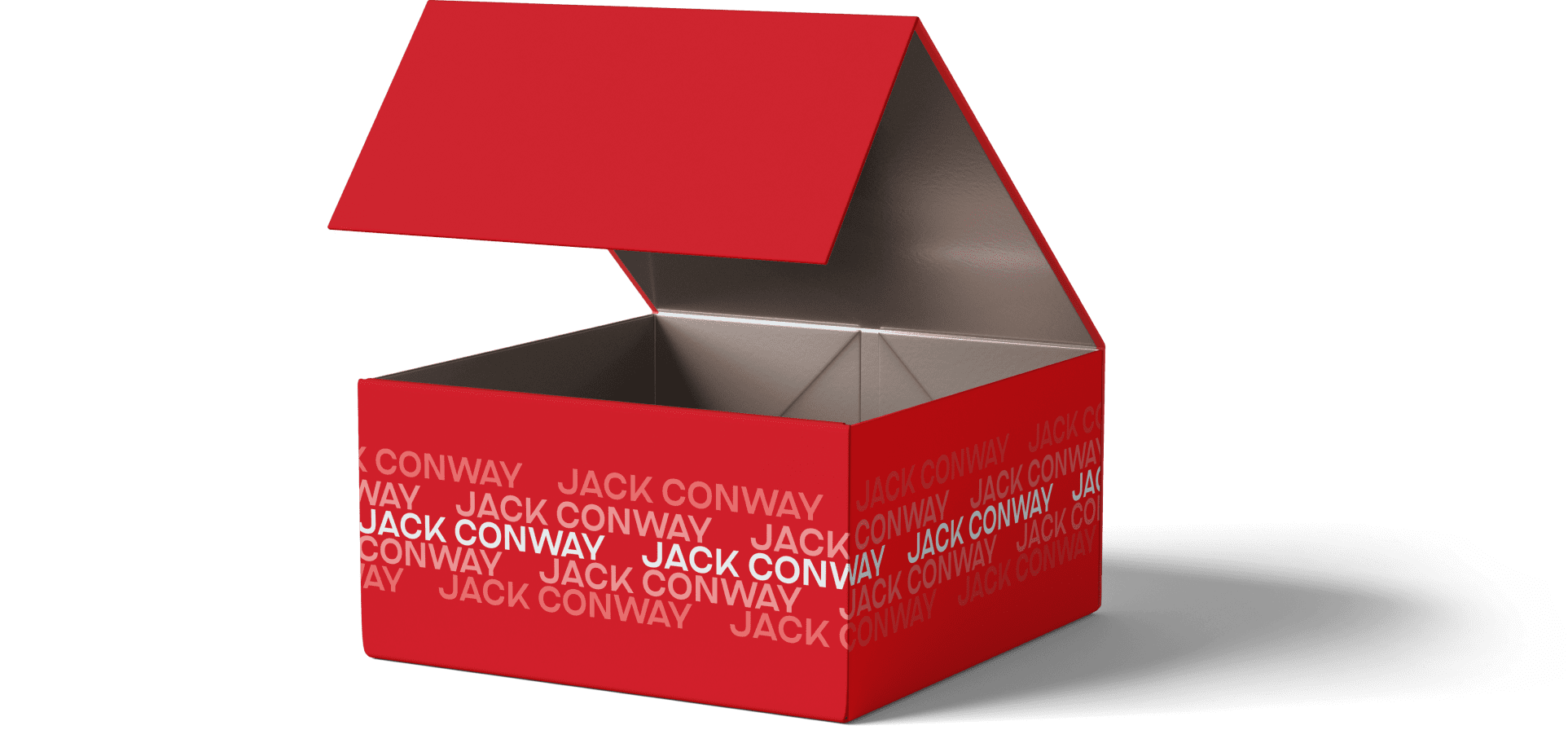 Welcome to Conway Country.
This shoreline graphic adds another strong element to Jack Conway's visual identity. It connects directly back to their brand's heritage, combining their familiar iconography of a bird with typography that proudly proclaims their motto: 'This is Conway Country.' It's a touch of iconography that brings their legacy full circle.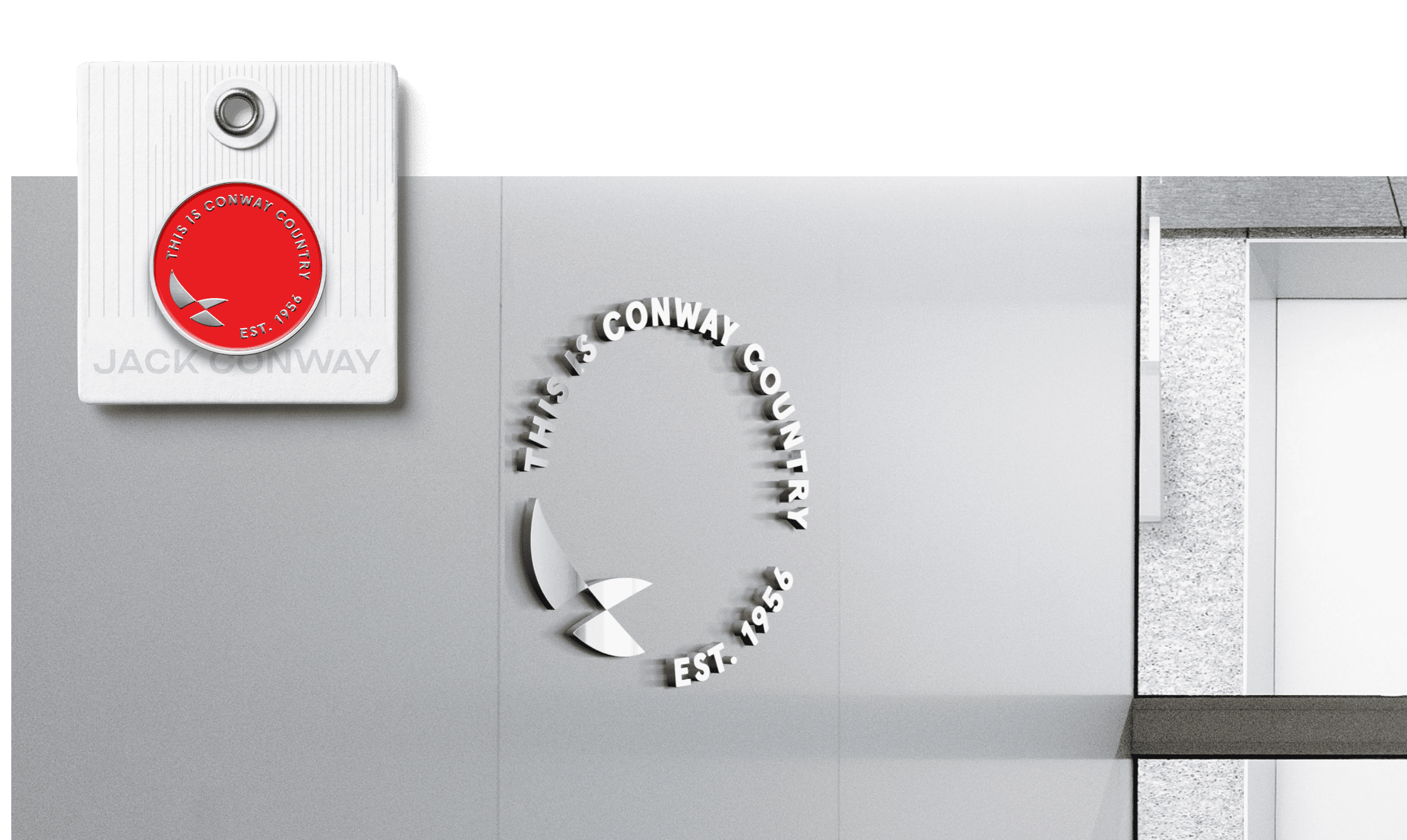 Bringing it all together.
The redesigned Jack Conway identity comes to life with a refreshed website that tells the new brand story: How their modern vision and timeless values help people make significant moves through real estate. It's a story that speaks to the whole Jack Conway family — from the people who buy and sell with them, to their agents' exciting energy, to the company's overall vision for their future.
The site features narrative-driven imagery that celebrates people and place — with architectural details, wide vistas, and compelling human portraits.
The messaging and design of the site is practical, yet expressive. It reflects all the attributes of the brand — qualities that Jack Conway's people bring to work every day. Like optimism. Steadiness. Friendliness. And heart. And it all serves to reinforce Jack Conway's fresh, strong, modern look. Reflecting their company's clarity of purpose. Strength of character. And bold ambition.
Testimonial
Our experience with the 1000watt team was amazing from start to finish. They used wisdom and creativity to transform our 66-year old brand into a story that honors the past, competes in the present and will endure for the future. Simply put, they nailed it!