Moving from regional upstart to national player required a different story and superior customer experience.
Launching a title company is hard.
Title is an intensely regulated business. Decades-old relationships between title reps and Realtors present a formidable obstacle. And everyone's selling a nearly identical product.
So when WFG opened its doors in Portland, Oregon, in 2009, they had a lot to prove. They were the new kid on a conservative, corporate block dominated by "the big five" – the five title behemoths that had been around for decades.
But WFG had (and still has) a genuinely different philosophy, one best expressed in Founder Pat Stone's mantra "We don't exist without our customer". The company viewed itself as a partner integrated with their customers' business processes, not a separate institution. 
This approach worked. 
WFG opened offices left and right and steadily grew their footprint throughout western United States. Agency operations spread across the nation. It was only a couple of years before they had climbed to number six in the market.
So when they called us, their sights were set on eliminating "the big five" from the industry's vocabulary. WFG wanted to establish itself as an industry MVP.
We were up for the challenge.
First, we looked inward.
We knew WFG was different from the pack; but our first task during our discovery was to figure out why.
We started at the company's inception. 
WFG was founded on core values — what were called internally the "Three Cs": collaboration, communication and co-existence. The company's belief was that by combining those three elements, everyone – real estate agents, lenders and consumers – could get to the end of the transaction process faster and more easily. Title didn't need to be convoluted.
WFG was on a mission to prove that.
…then we looked outward
We took inventory of the industry landscape.
The competition's marketing was conservative, impersonal and opaque. The images were stock. The messaging was a lot of "this is why our company is great." There was very little acknowledgement of an important person: the customer.
If no one else was saying anything about what agents should expect or what the consumer's experience should be, then we wanted to do the exact opposite
Creating the WFG brand story
We built a brand strategy that positioned WFG as the title company focused on customer experience. This wasn't drawn out of thin air. It was an expression of the philosophy and values that already existed. Our job was to express that.
We decided to lead with an emphasis not just on the things that the company offered, but explaining the reasons underlying why they were important to their customer – brokers and agents. 
This became the "Because of You" campaign.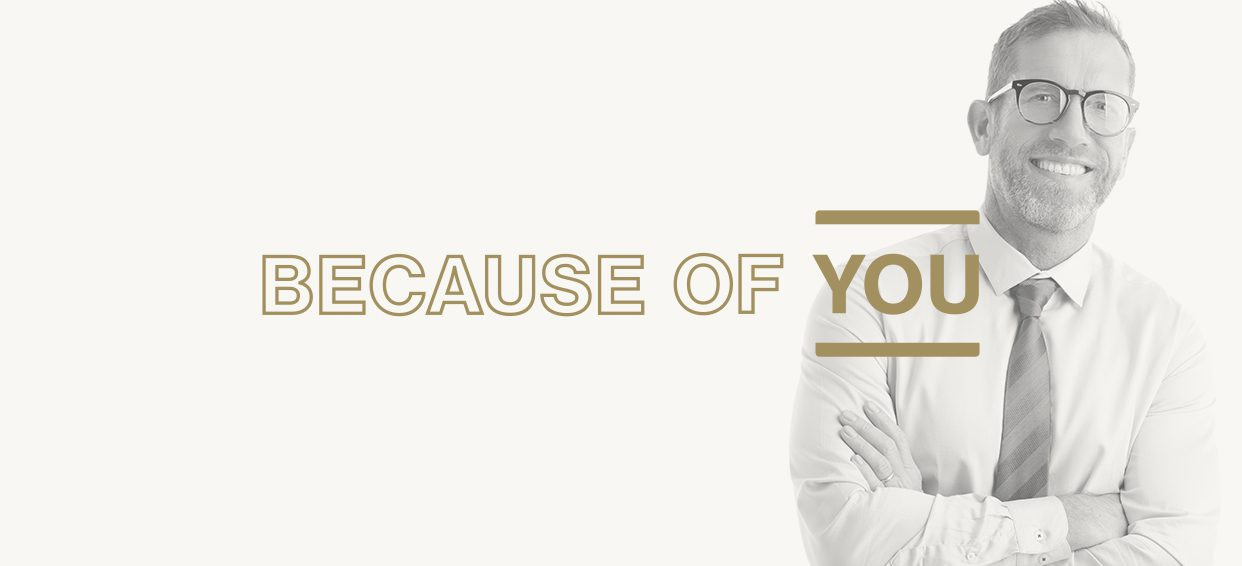 We used real language – not corporate cliches – to illustrate the real world applications of these ideas and how they impacted people.
We even used personal stories from people within WFG to show proof that the company lived up to its promise.
The Because of You campaign was launched in a big way across WFG's footprint.
But we couldn't stop there. It's one thing to express a truth, quite another to prove it.
Delivering on the promise through a first-of-its-kind product
Title and escrow has historically been a mysterious territory for consumers, a part of their real estate journey with very little visibility and few guideposts. Realtors struggled to keep clients informed because they themselves had no easy way to track progress.  
So we worked with WFG to conceptualize, design and build the first-ever tracker app for title — "MyHome" — a mobile-first dashboard that would enable agents, title officers and consumers to work together through every step of the title process. 
The 1000watt design team created and elegant user interface that gave all parties and "at a glance" understanding of where they stood. SMS notifications alerted parties to the completion of key milestones or points of action.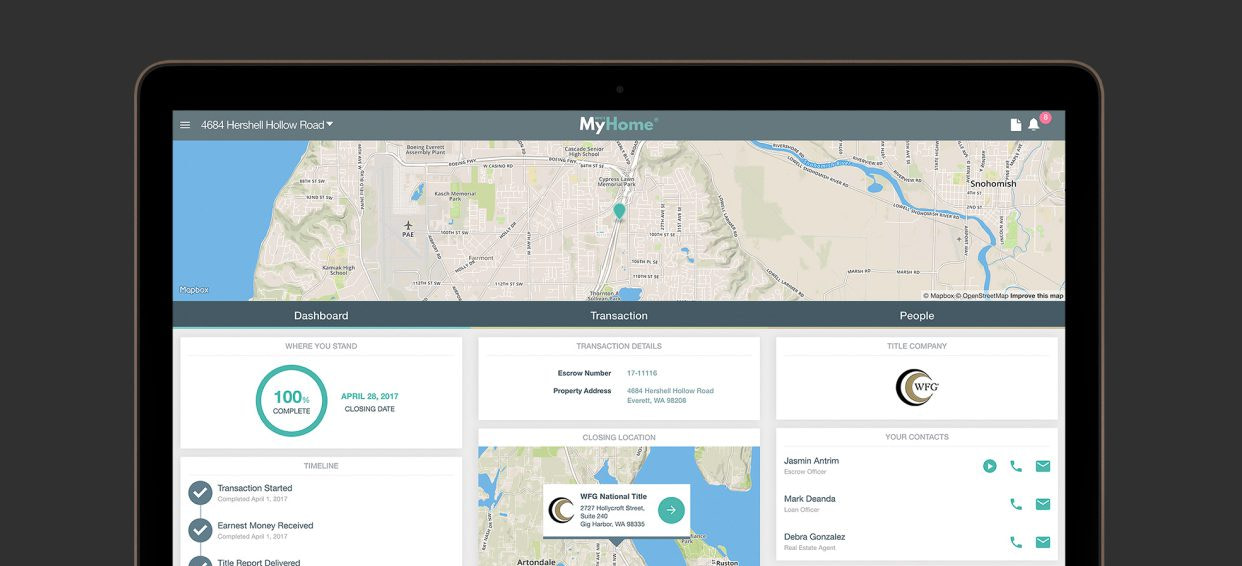 The MyHome app was released first in Oregon, then across the WFG footprint, with adoption and usage far exceeding expectations. Competitors have scrambled to follow.
MyHome has become demonstrable proof of WFG's difference.