A focused visionary
Matt Curtis, Chief Visionary of Matt Curtis Real Estate in Huntsville, Alabama, is a man who listens intently. An engineer in his pre-real estate life, he's always absorbing, thinking, planning and, above all, building towards a vision.
Matt opened his "teamerage" – a brokerage, legally, but organized and run like a team – 7 years ago.
The team closed 1085 sales last year.
Let's just say the vision is BIG.
More than a slogan, an ethos
Matt called us up looking for a story and visual identity to accelerate his already-phenomenal growth. Matt is one of those highly-successful people who is focused and humble enough to know when it's time to seek outside help in pursuit of his vision.
Matt built his team around clear beliefs and values. He has a point of view. But this wasn't coming through in their marketing and advertising as strongly as it should. And the brand identity wasn't doing justice to the caliber of organization Matt Curtis Real Estate had become. 
We got to work. 
Extensive discovery and strategy culminated in a story and message led by a simple but powerful slogan, Let's move ahead, a testament to the company's motivational culture and commitment to building a movement, not just a business.
The simplest forms are the most difficult
Our design team worked closely with the Matt Curtis team to create a look for the brand that felt authentic. The process began with a visual brief workshop where we explored their preferences around color, typography and imagery.
The workshop resulted in a series of presentations to get the mark exactly right. A design process is iterative, and strengthened by truthful input and collaboration. The Matt Curtis team met us halfway every time, offering honest feedback and measurement of the work against the benchmarks we set during strategy. When designing a simple mark, you often need to explore a range of options before finding the perfect one.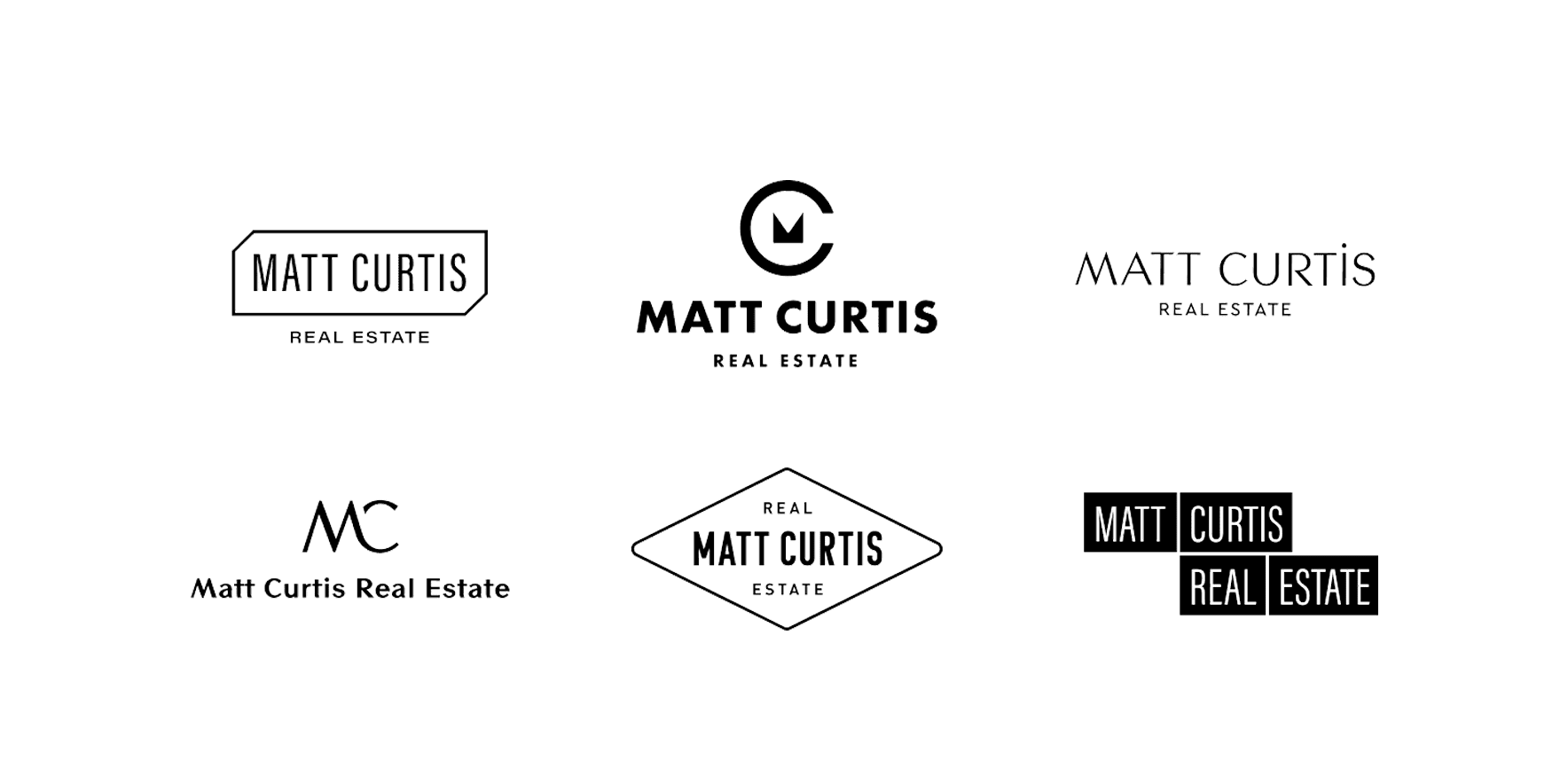 Working together, finding perfection 
The final logo was a product of Matt's vision and our design team's dedication to the details. The form is inspired by a floorplan. At first glance it provides structure, stability and order, and offers a visual language that enables organization and flexibility.
Strong and approachable
We paired the logo with a classic and contemporary color palette. The navy blue contrasts with a warm red, inspiring a feeling of timeless Americana. 
Testimonial
"For approximately a year, God had us in a valley and season of stillness and waiting in preparation for COVID-19. In the middle of this season, we felt deep in our souls that it was time to take the next step towards our goal of expansion and our BHAG of 20,000 homes sold per year. We needed a brand identity that expressed who we had grown to as a team and, more importantly, where we were going. We decided to make the investment in the experts - 1000watt. It quickly became apparent during the brand story creation that I could have spent the rest of my life studying this and would not have been able to duplicate the work 1000watt performed for us. For the final logo design, 1000watt was tenacious, creative, and always had a can-do attitude. I have no doubt that the investment with 1000watt will produce one of the best ROI's I ever receive. Thank you 1000watt for providing us with the story and identity to help us fulfill our calling and growth, and for welcoming us into your family and for believing in us, our ethos, and our vision."